Introducing The Brand New Range of Personalised Slate Boards!
Perfectly timed ready for Christmas The Card Zoo is proud to announce a new range of products to the ever-growing collection…
Introducing the Personalised Slate Board Collection!
The collection includes: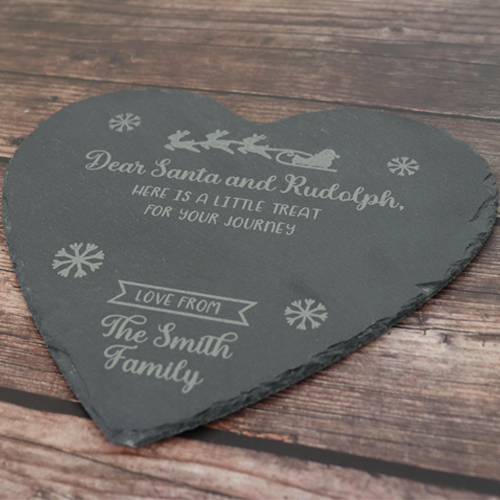 Whether you're showcasing your baking skills, slicing & dicing, serving your favourite cheeses, getting ready for Santa & Rudolph, or adding a special & personalised touch to your dinner table these Slate Boards are perfect & can be used year after year.
Coming in various shapes such as hearts, squares, rectangles & circles. The size information is as followed:
The round shaped slate boards measure approximately 30cm wide x 30cm long and 5mm thick.
The square shaped slate boards measure approximately 33cm wide x 33cm long and 5mm thick.
The rectangle shaped slate boards measure approximately 20cm wide x 30cm long and 5mm thick.
The heart shaped boards measure approximately 25cm wide x 25cm long and 8mm thick.
To personalise all the Slate Boards, simply fill out the text boxes found on every product page. If you like the wording and layout that is in our example picture, simply enter the personalised info we need. If you wish to change the message or wording entirely, simply enter the text exactly as you would like it to be printed, word for word.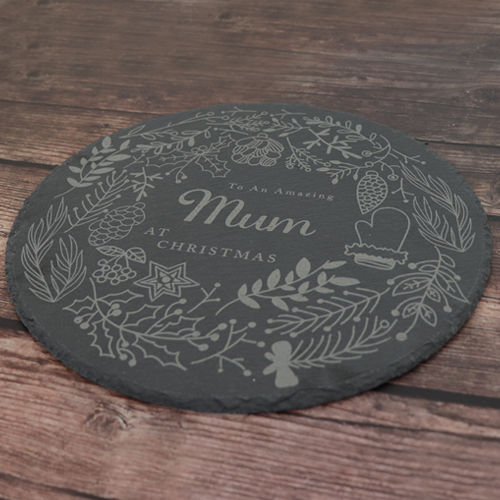 We process all orders manually to ensure your personalised and engraved slate board looks great. The instructions you type in the boxes will come through to our expert team of designers who will then personalise your slate, ensuring the layout looks great before it is sent for engraving. This allows us to be very flexible when it comes to wording, font, and layout enabling you to adapt this personalised gift to suit any occasion or event.
This slate will be sent in protective packaging by DPD, and you may need to be present to receive the parcel.
Slate is a natural product, and every piece of board is unique, this means each board may contain small natural faults and grooves along edges and surface. The colouring, patterns and dimensions may also vary slightly.
These personalised slate boards come with rubber feet on the underside to keep them stable on your surface and to prevent the slate from scratching the surface below.
If marks occur, the slate can be easily cleaned with water, soap, and a gentle rub.
Perfect for all year round these slates can be used at Summer BBQs or Christmas time as décor or Birthday & Christmas presents.
Explore our range of personalised slate Cheese Boards, Christmas Eve boards, Cake Serving Boards, Chopping Boards & Dinner Table Placements here.
Recommended Products
Recent Posts
The hectic Christmas period will soon be upon us so now is your chance to take full advantage of

We've been working hard creating new and fun gifts & accessories ready for the Christmas period

Perfectly timed ready for Christmas The Card Zoo is proud to announce a new range of produc