Planning A Children's Birthday Party
Most kids love a good party. A day full of excitement from start to finish which includes opening gifts to charging around with their best mates while bouncing off pop & cake. It is natural as a parent you want the party to be the best it could possibly be while not breaking the bank.
In today's blog we break down a child's party and highlight key areas to help you create the best day possible. Below you will find a birthday checklist, tips and tricks, party theme ideas and some of the celebratory stationery you will require.
The Card Zoo has a range of celebratory stationery from Invites to Bunting that will help you add the extra special and personalised touches your children deserve!
Birthday Check list
There are a few core elements to every party you simply cannot forget. They include:
Birthday Cake –
A creation dated back to the ancient Egyptians. This thing of beauty is the one thing you need. Forget everything else if there's no cake there's no party. Simple as that!
Entertainment –
From Magicians to bouncy castles and football finding the right form of entertainment is something that makes parties memorable and unique.
Food & Beverage –
Despite being the core element guests cannot just eat cake. Having a range of tasty treats, snacks & drink to fuel the chaos is necessary. Sit down meals work great for adult parties but nothing can beat a good Buffett at a children's party!
This feels like an obvious thing to say but it is true. How will anyone know where to go for what time if you do not have your invites sorted? It also sets the precedent of the day and the theme you are going for.
Signage –
A simple but effective addition to a party that really adds a nice final addition. Not everyone you invite will know where they are or where the toilets are, so having personalised signage point to the food, toilets and exits can be really helpful for guests!
Location –
Finding the right location that suits your parties' need is a given. Local town halls are brilliant for hosting kid's parties. There is normal plenty of space that will allow you to set up dedicated food & play areas.
Date & Time –
Setting the right date and time is essential. No one wants a party during the week or too late at night so aiming for a Saturday or Sunday afternoon between 10am and 3pm is an ideal time especially when kids are involved.
Gift Bags –
Who doesn't love a gift bag? A couple cheap toys, a few sweats, cake and a thank you note always goes down well with the guests.
Bunting –
Another small but effective element you can add to any party is personalised bunting. It really helps bring that party vibe to the forefront of every celebration. It works even better if the bunting is personalised!
Balloons –
Playing keepy uppies with a Balloon is a personal favourite of mine regardless of the party. Whether there it is a group of kids playing with their mates or a dad awkwardly standing in the corner we can almost guarantee someone will be playing it, but on a more serious note balloons also make great party décor!

Tips and tricks
Sending Invitations –
Keeping invitations clear & easy to understand is essential. You really need to avoid over complicating the invites so keeping them simply and straightforward is necessary. Things you should include are:
Name
Occasion
Address
Time & Date
RSVP Number
Here is an example: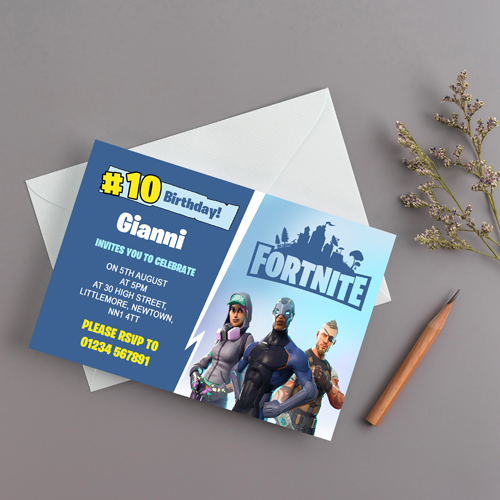 Food & Drink –
A lot of people have dietary requirements which can become life threatening, so when planning your menu make sure you consider the different possibilities such as gluten or diary intolerance. No one will be offended if you ask about their dietary needs & you should also take into account if anyone is Vegan or Vegetarian. It is only fair and polite to make sure all your guests are well fed and safe.
Enlist an Army –
Parties can be manic events to organise, set up and host so pulling in friends and family to help is something you should 1000% consider. From creating the birthday decorations to sorting food and supervising the kids, having a team you can rely on makes the party life so much easier and hassle free.
Themes –
The theme of the day is an important part of the party so getting it right is a must. There is no point in guessing and hoping its right so get your child or their friends involved to make sure everything is 100% accurate. Providing its not a surprise party it might be quite fun for them to be involved in planning the day.
Budget –
Having a clear line in the sand when it comes to your budget can be extremely helpful. If you do not have this in place, then before you know it, you will be spending an insane amount of money without realising. This also helps you find the best value for money products.

Theme Ideas
Who does not love a themed party? From fancy dress to laser tag, it is a day many will love. Below we have found five party themes that are popular amongst the younger generation.
Fortnite -
Hitting the market in 2017 the free-to-play battle royale was an instant success amongst children and we are sure whether its V bucks or iconic dances like the floss you have probably heard of it to!
Minecraft -
Following on the gaming route Minecraft is a simple block styled game that kids cannot get enough of. Growing into one of the biggest games of all time Creepers & co have been capturing the imagination of kids for years.
Football -
Sport in general make for an action-packed birthday full of fun activities & team building exercises. Whether it is a birthday based around Football, Basketball or Rugby it is the perfect chance to get your children & their friends on the pitch playing or even visit a stadium to watch the best of the best.
Disney Princess -
Disney Princesses have been a big part of many people's lives for an exceptionally long time with the first appearance coming from Disney in 1937 in the form of Snow White. Girls & Boys dream of their chance to spend the day as a princess, dressing up in their favourite dresses and acting like royalty, so why not give them just that with a Disney Princess themed birthday party!
Superheroes -
Whether they are comic book lovers or obsessed with the on screen MCU, superheroes are a source of inspiration for many, a chance to inspire, to be better and ultimately a great source of entertainment. A superhero themed birthday party much like the Disney themed party is a great chance for your kids to dress up as their favourite comic book character and fight the greatest of evil!
Stationery Needed
There are many types of stationery required for birthday parties that you cannot miss such as:
Everything you find at The Card Zoo can be personalised to suit your needs.
Cards & Gifts
Once you have the party planned it's time to think what gifts and card your child will want! We have got 100s of fun and cool designs across a range of personalised cards and gifts that are perfect! Covering some of the most popular characters & topics of this day and age we are sure there will be a card or gift perfect for them.
Some of our favourite designs are:
Minecraft Characters Personalised Birthday Card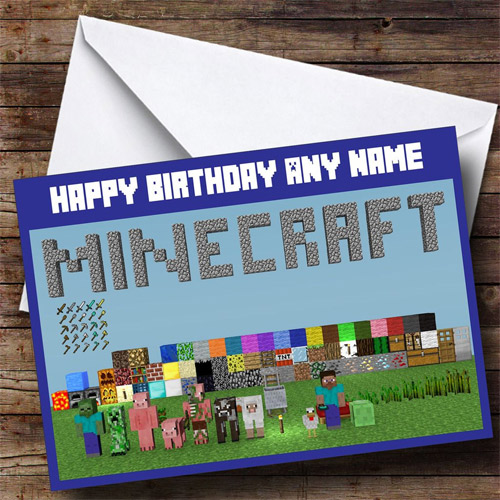 Gaming Switch Splatter Art Personalised Birthday Card
Year You Were Born Prints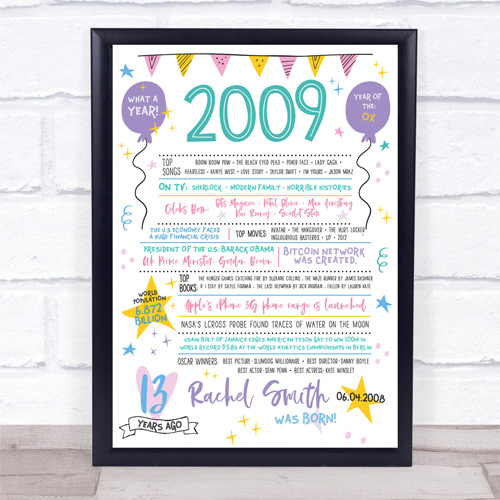 Grey Headphones Acrylic Block
Recommended Products
Recent Posts
We've been working hard creating new and fun gifts & accessories ready for the Christmas period

Perfectly timed ready for Christmas The Card Zoo is proud to announce a new range of produc

Most kids love a good party. A day full of excitement from start to finish which includes openin